Solid Waste Collection Services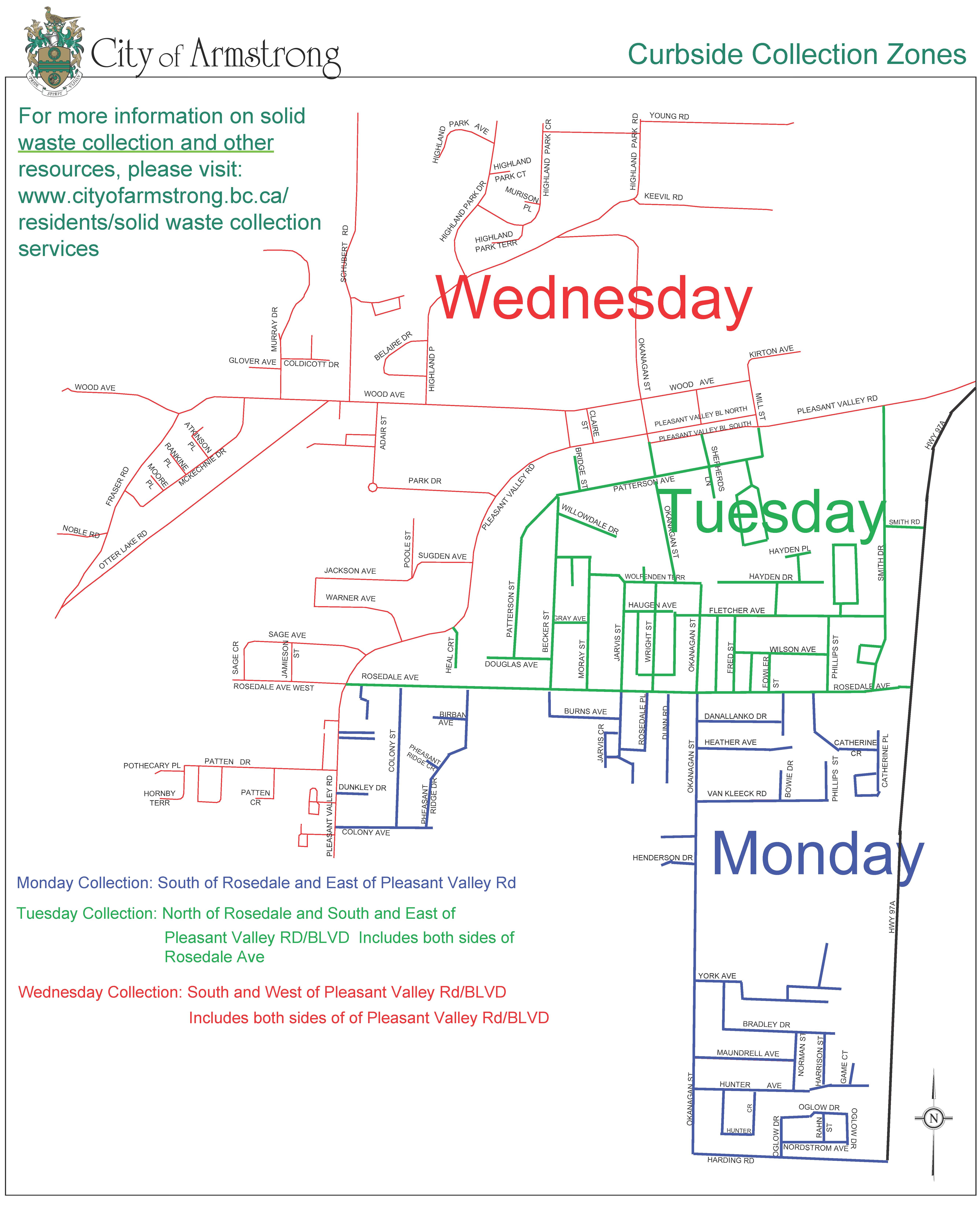 What is included in the service?
The City of Armstrong has partnered with the contractor SCV Waste Solutions to provide municipal solid waste collection services. SCV Waste Solutions provides a tiered service for waste collection including:
Weekly manual food waste collection from one City-supplied food waste bin containing a maximum of 22 kg (40 lbs)
Bi-weekly automated garbage collection from one 240 L City supplied garbage cart
Bi-weekly manual green waste collection in resident-provided containers or compostable bags.
When can I expect collection of my materials?
In order to make sure your curbside containers are collected each week:
Place the containers at the curb prior to 7 a.m. but not before 4 a.m. on your collection day
All containers must be placed with wheels positioned away from the traveled portion of the lane so they are visible and accessible for the collectors. They must not obstruct roadways, driveways or sidewalks.
The automated collection trucks will require one metre of space around your cart.
If collection appears to have not taken place at your home, contact SCV Waste Solutions directly at (250) 540-9300.
Recycle BC
Recycling services are part of a provincial program. Emterra Environmental is Recycle BC's curbside collection contractor for packaging and paper products in our region.
Contact Emterra Environmental with any inquiries at 250-545-4245 or via email at askmebc2@emterra.ca.
10 Food Waste Tips:
Freeze particularly smell and messy food waste in your freezer until your collection day. (Dairy, meat, bones, shellfish)
Drain as much liquid as possible from your organic material before putting it in your food waste bin.
Wrap your food waste in a newspaper, paper towel or tissue paper to absorb excess moisture.
Sprinkle some baking soda, white vinegar or lemon juice in your container to help fight odours.
Keep your containers cool by storing them away from heat and direct sunlight. Heat speeds up decomposition and produces odour faster.
Fats, oils and greases must not be dumped down the drain. Let these solidify or freeze, then scrape into your food waste.
Soiled paper products like paper towel, napkins & tissues should go in your food waste. These are not recyclable, even if clean. Don't put these items in your recycling.
Small wooden products like popsicle sticks, toothpicks and chopsticks are also accepted in your food waste. Break longer items into smaller pieces.
Take your food waste cart to the curb for collection every week, even if it is not full.
Look for certified compostable logos when purchasing liners or compostable bags for your food waste bin.