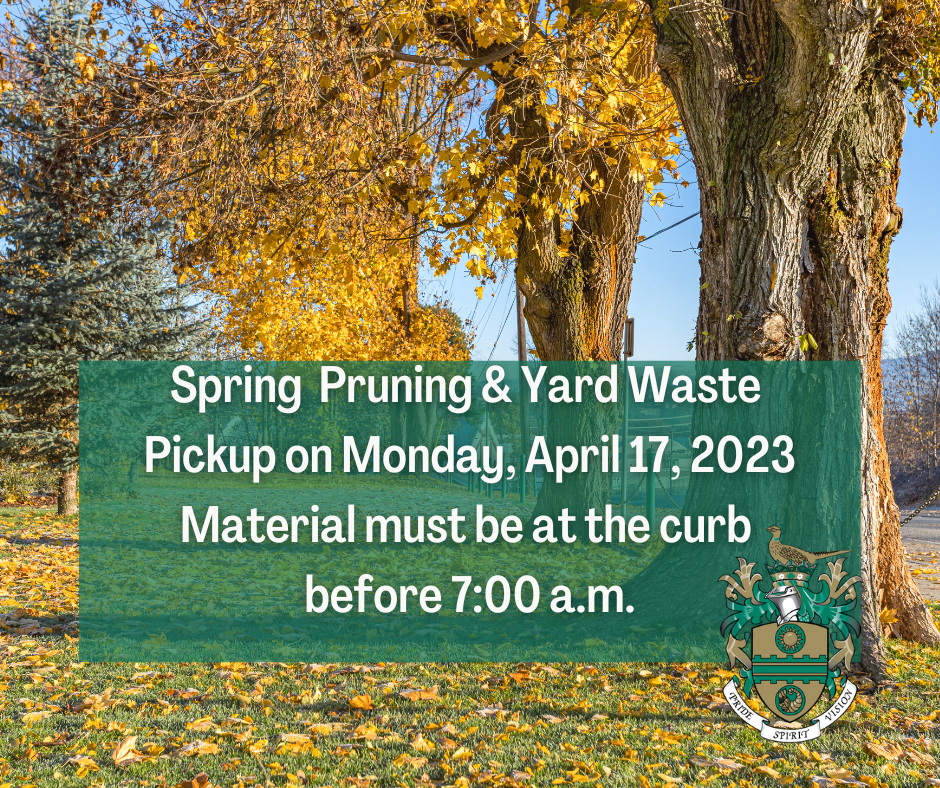 Material must be at the curb before 7:00 a.m.
As per Bylaw 1871 Solid Waste Collection, Green Waste must be contained in compostable paper yard waste bags as the Regional District of North Okanagan (RDNO) Diversion and Disposal Facilities does not accept yard waste contained in plastic bags.
What are paper yard waste bags? Often comprised of two-layered reinforced kraft paper, these bags can hold all kinds of yard waste and are constructed of materials that is 100 percent compostable.
Where can I purchase paper yard waste bags? These paper yard waste bags are available for purchase at hardware stores or outdoor living centres.
Bundled Pruning Pickup
• Pruning must be tied in bundles with string (no wire of any kind)
• Bundle size must be manageable
• Bundles are to be stacked parallel to the street, away from other objects, for ease of pick up
• Maximum Diameter of pruning = 4 inches
• Maximum Length of pruning = 6 feet
• No roots or dirt in the bundle
• Pruning with thorns are to be bundled separately

Bagged Organics Pickup
• Garden waste such as leaves, needles, clippings, and other material that cannot be bundled must be in compostable bags.
• No loose material will be picked up
• Maximum weight of bag = 50 pounds
• Compostable bags are to be placed at the curb and away from bundled pruning
• Leaves are not to be raked on street
Material not meeting the above requirements will not be picked up.
The City of Armstrong is dedicated to encouraging citizens to adapt to more sustainable and environmentally friendly waste practices. The City will be phasing out the Pruning & Yard Waste Pickup, as a result of the implementation of our biweekly general green waste program. The Spring Pruning & Yard Waste Pickup is the final semi annual pick up, but residents are encouraged to continue to use the biweekly green waste pick up service.