Your Mayor and City Council are proud to serve the City of Armstrong, and stand ready to support all residents, businesses, and visitors. With key responsibility for local services, city streets, and recreational facilities, Council is committed to ensuring prosperity and growth for all.
Elected in 2022, Armstrong residents are represented by 6 councillors and Mayor Joe Cramer.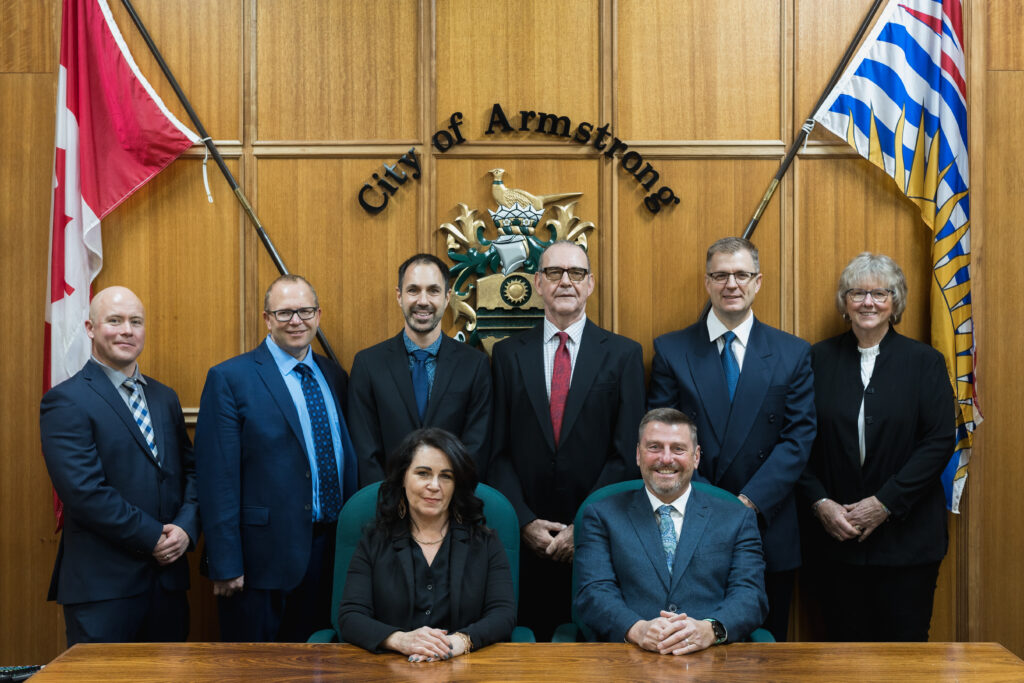 Council Meetings
All Regular Council Meetings are held on a Monday or Tuesday, in the event of statutory holidays falling on a Monday. Meetings start at 5:00 pm and take place at Armstrong City Hall, unless otherwise directed by City Council. Come back soon to view the updated meeting schedule for 2023.
At this time, all Council meetings are open to the public and held virtually through Zoom. If you are interested in attending a meeting via zoom or in person, please pre-register by emailing the City at: info@cityofarmstrong.bc.ca, as seating is limited.
Masks and Social Distancing is required while attending a meeting at City Hall.
Access for all Council, Committee and Commission Meeting schedules, Agendas and Minutes are available for viewing.
Agendas & Attendance
Council meeting agendas are prepared by staff on the Thursday prior to the upcoming meeting. Once approved, the agendas are available to the public the following day (Friday).
All correspondence brought before Council is approved by the Corporate Officer (CO) and the Chief Administrative Officer (CAO). Members of the public who wish to appear before Council will appear as a delegation.
As a general practice, delegates should contact administrative staff 14 days prior to the Council meeting of interest. As a requirement of delegation, complete this form which outlines the topic you would like to discuss, and email it to info@cityofarmstrong.bc.ca. For further information, contact the CAO or CO for more information.
Strategic Plan
Council has identified five strategic focus areas for the 2022-2026 term of office. These are areas Council considers key priorities for the near and longer term. The strategic focus areas service to focus operations on the outcomes aligned with the Corporation's vision and mission. The strategic focus areas, goals and strategic actions will guide the work of Council and staff throughout the term and beyond.
The City of Armstrong's Strategic Plan for 2023-2026 outlines our vison for the future of our community and sets out a roadmap for achieving our goals.
Over the next several years, we will focus on several key areas, including Community Wellbeing, Community Engagement, Environmental Stewardship, Asset Management, and Organizational Resilience and Sustainability. We believe that by investing in these areas, we can continue to build a prosperous, vibrant, and livable city for everyone.
Along with focusing on these key strategic areas we will continue to deliver our core services such as fire protection, public works, parks and recreation, and community services.