ARMSTRONG, BC – The City of Armstrong is excited to launch the Official Community Plan (OCP) update project "PLANarmSTRONG". The whole community is encouraged to get involved and help shape the future of Armstrong!
PLANarmSTRONG is an opportunity to set the new course for Armstrong, and address important priorities in the community including housing, environmental stewardship, economic development and more! To have a successful OCP it is important to get as many local perspectives as possible. Get involved and provide your vision and ideas to PLANarmSTRONG!
Community engagement will start with a survey the first week of November and then begin intensively November 20 – 23rd with the "OCP in a Week" engagement sessions.
"Given the significant transformation our community has undergone in the past 10 years, it is critical that we develop a fresh Official Community Plan that accurately represents our present requirements, values, and priorities. I encourage all members of our community to actively participate, express their opinions, and contribute towards shaping the future of Armstrong."
– Mayor Cramer
The City has retained consulting firm, Urban Systems to lead the development of our OCP update through the following phases: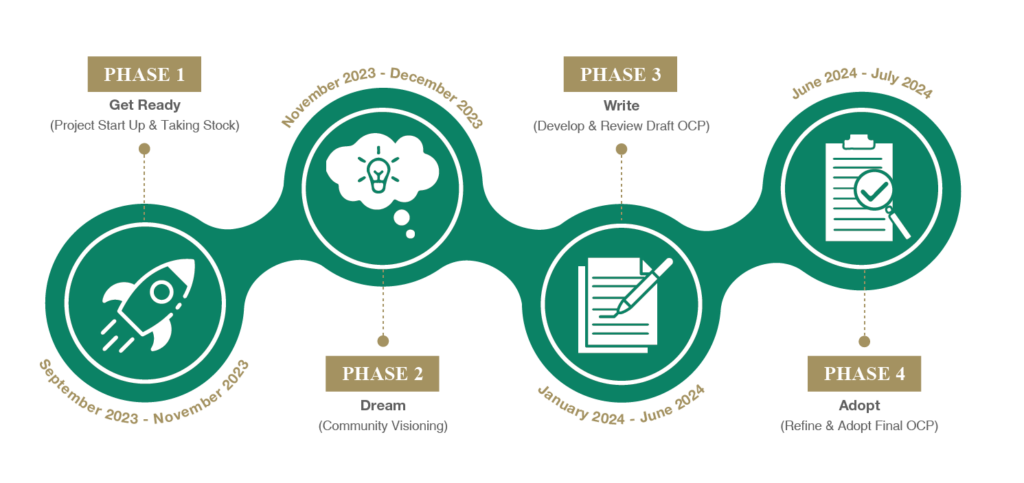 An OCP is a long-term planning document and bylaw that outlines the vision, goals, policies, and strategies for the future growth and development of a community. OCPs guide City decision-making, policies, and investments in areas such as land use, infrastructure, transportation, housing, environment, arts and culture, parks, and economic development. The City's current OCP was last updated in 2014 and requires a comprehensive update to align Armstrong's future with evolving conditions, trends, and developments within and outside of our community.
The PLANarmSTRONG project focuses on the overall long-term vision for Armstrong and differs from the CARI project which is concentrated on the renewal of the streetscape of Armstrong's main commercial corridor. The two projects overlap and will be sharing information.
Please stay tuned to the City's social media and website for updates on ways to engage and contribute to shaping the future of Armstrong. cityofarmstrong.bc.ca/PLAN-armSTRONG